One of the world's leading 3D printer manufacturers and American technology innovator, M3D, launches the PROMEGA: a large, feature-packed, open source 3D printer. Boasting an impressive 15.3"-cubed build size, the printer itself is just 20"-cubed.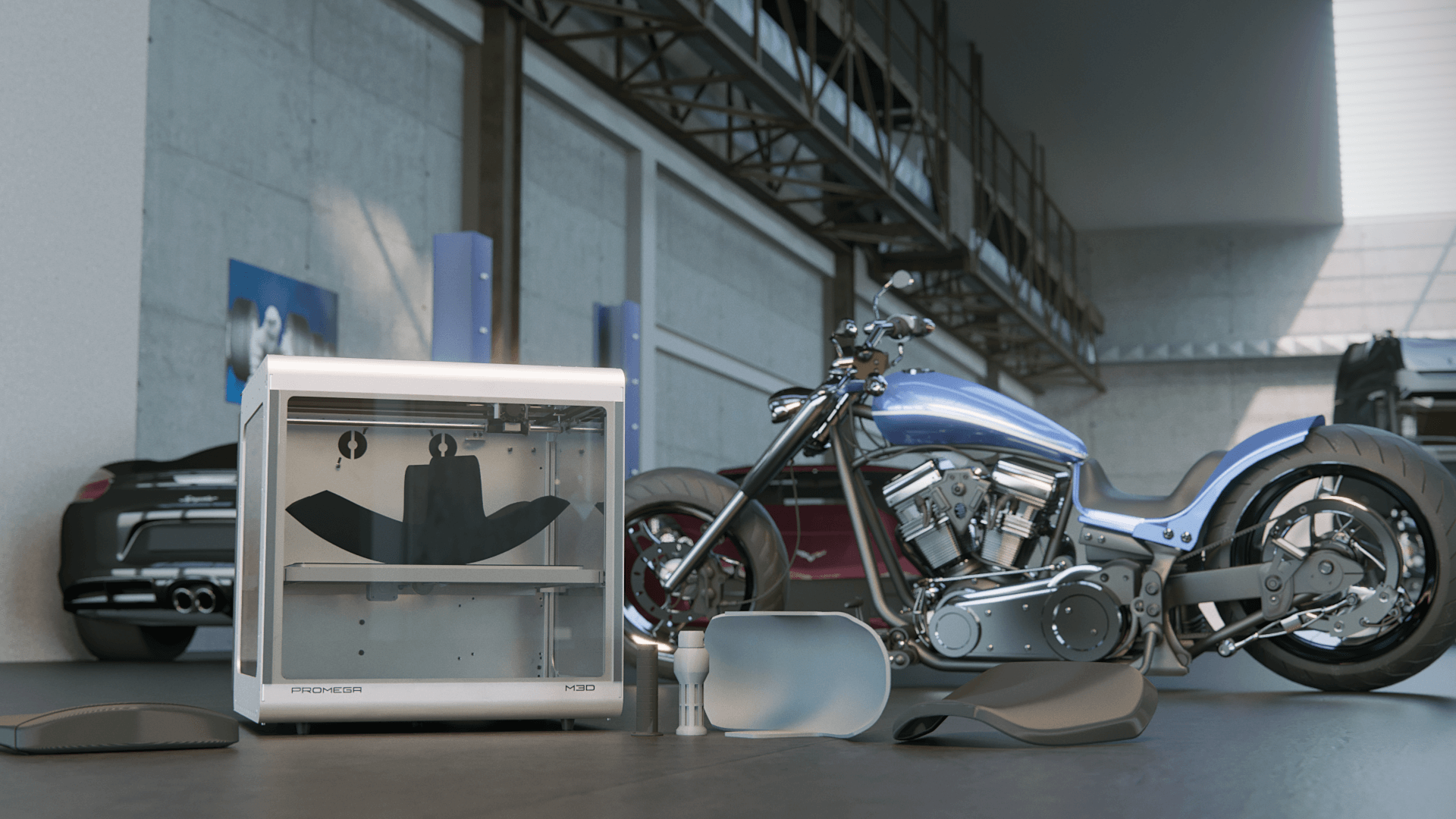 "Considering its size and all the features included in this dream of an industrial 3D printer, the Promega would have sold for $50,000 just a couple years ago; now we intend to sell it at $3,500," said Michael Armani, M3D CEO and co-founder.
So, what will you get from the Promega?
CONTROL | FLEXIBILITY | HIGH QUALITY PRINTS | ENERGY COST SAVINGS
Control
Start with the direct-drive dual extruder and then choose between M3D's compound hotend or dual independent hotends. This will allow you to print with various types of filament and work between different filament properties, adjusted to each material's precise needs. Better yet, get both for an additional $100.
Both options come with a PTFE sleeve that is perfect for handling PLA and any material up to 270'C, like POM, Nylon, HIPS, ABS, PETG, PVA and PVB. Due to its direct-drive setup, printing with flexible filaments on the Promega is possible.
Want to print with PC, PTFE, PPS, PEEK and PEI? The Promega can do that. Get the high-temperature sleeve and print with the widest range of advanced and experimental polymers available. (Each sleeve will be an additional $25 add-on.)
Flexibility
Leverage the power and flexibility of the Promega's open source build. The software, electronics and firmware are all open source, giving you the ultimate flexibility to use the tool suite and plug-ins of your choice, and to repair and expand your Promega 3D printer how you'd like.
Further, control the Promega printer remotely through your smartphone or other networked tablet or computer, with the built-in Ethernet Webhost.
Consistent, High-Quality Prints
The Promega was built to last. The all-metal frame is just the beginning. Mechanically, the Z-platform runs extremely smooth, resulting in no print wobbles. A 32-bit processor, Nema 17 motors, CoreXY motion system and auto-bed leveling using an infrared level sensor means the Promega can power through prints of even the toughest models with ease and refinement.
Energy Cost Savings
Get control, flexibility, high quality prints and energy savings thanks to the Promega's patent-pending dual-zone Ecoheat Heated Bed. Using Flareline technology, the glass heated bed gives even, distributed heat to the entire bed, at a fraction of the cost of comparable beds. Use the complete heated surface for large prints or, use just the inner heating core for smaller prints and save even more on energy costs (up to 83%!).
What is Flareline technology? Heat-conducting 'flarelines' run throughout the glass bed unit, distributing heat. The heat is evenly disbursed among the lines, with heat radiating between them as well, for consistent heating across the bed.
Technically Speaking: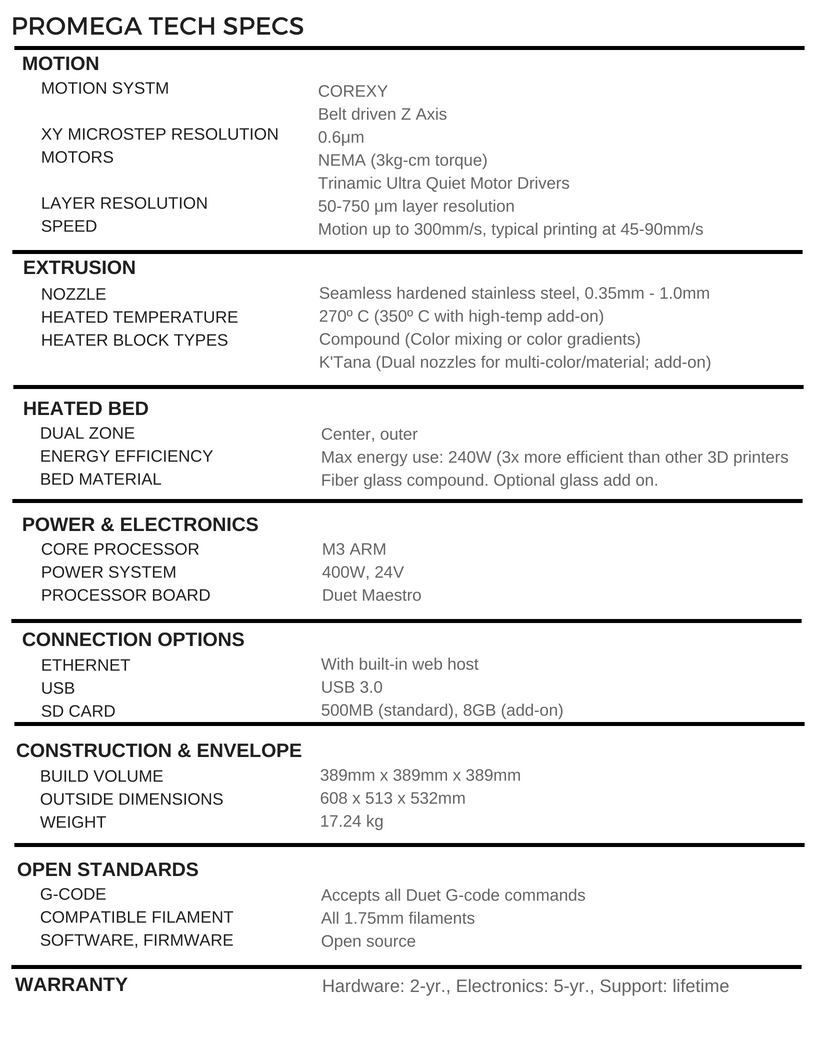 Like other printers from M3D, the Promega is designed, assembled and supported in the United States. The Promega industrial 3D printer will retail at $3,500 USD, but pre-order pricing starts at $1,000 USD. The Promega crowdfunding process will vary from standard experiences in that production takes place as pre-orders are coming in; not after a campaign has ended. We are releasing updates and new information as it comes, finalizing details along the way. As a result of this shift in pre-order approach, pricing for the Promega will increase gradually as additional units are shipped out and more reviews are garnered within the pre-order period.
Here's an evolution of our prototype.
The initial frame enclosure concept, the first prototype and the beginnings of our second Promega prototype.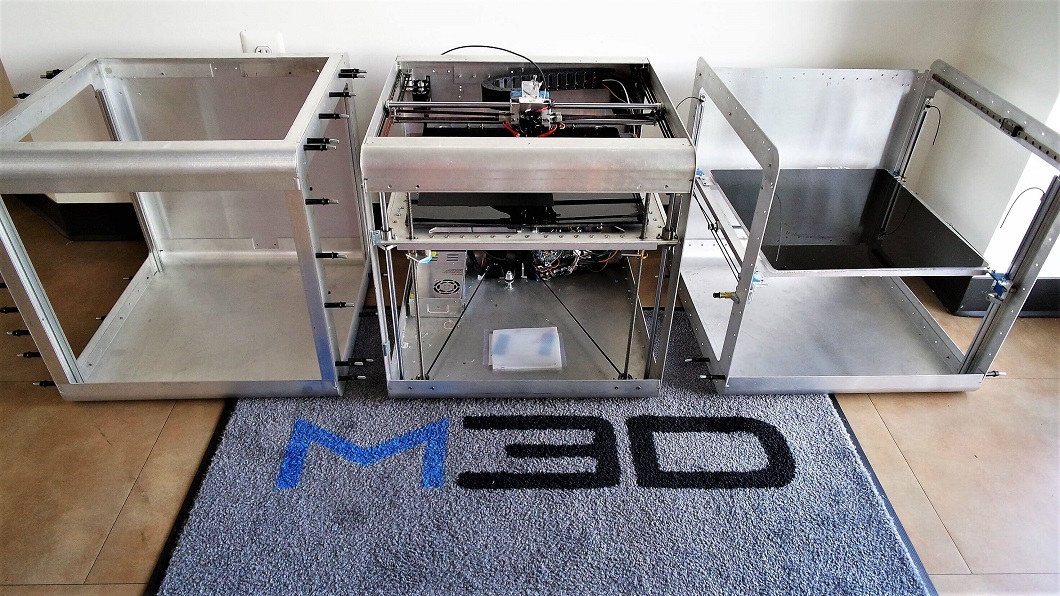 REFERRAL PROGRAM DETAILS
Referring friends for the Promega couldn't be easier. Log in to FitForLaunch and claim your referral code. Share that code to your personal network and then use the earned store credits to purchase add-ons for your Promega or even new Promega altogether!
Credits earned and discount received depends upon the Promega's price at check-out:
| | | |
| --- | --- | --- |
| PROMEGA PRICE | ACCOUNT HOLDER CREDIT | FRIEND'S DISCOUNT |
| $2,500 | $150 | $400 |
| $2,750 | $200 | $450 |
| $3,000 | $250 | $500 |
| $3,250 | $300 | $550 |
| $3,500 | $350 | $600 |
Log-in to claim your referral code and read the program's full terms and conditions.
WHAT DO YOU GET?
While very similar, the assembled version of the Promega has a few more "bells and whistles," if you will, than the Promega Kit. See what comes standard on each model below: