Promegas Have Left The Building
Posted By: M3D LLC - View: public
Apr 19, 2018 - 10:21 PM
Earlier today, the first Promegas were handed off to Supporters. We are excited to see what this first group of three people (one Promega owner not in frame of the picture) will be doing with these production units. As we receive updates on their printing progress and Promega performance, we'll be sure to share with you as well!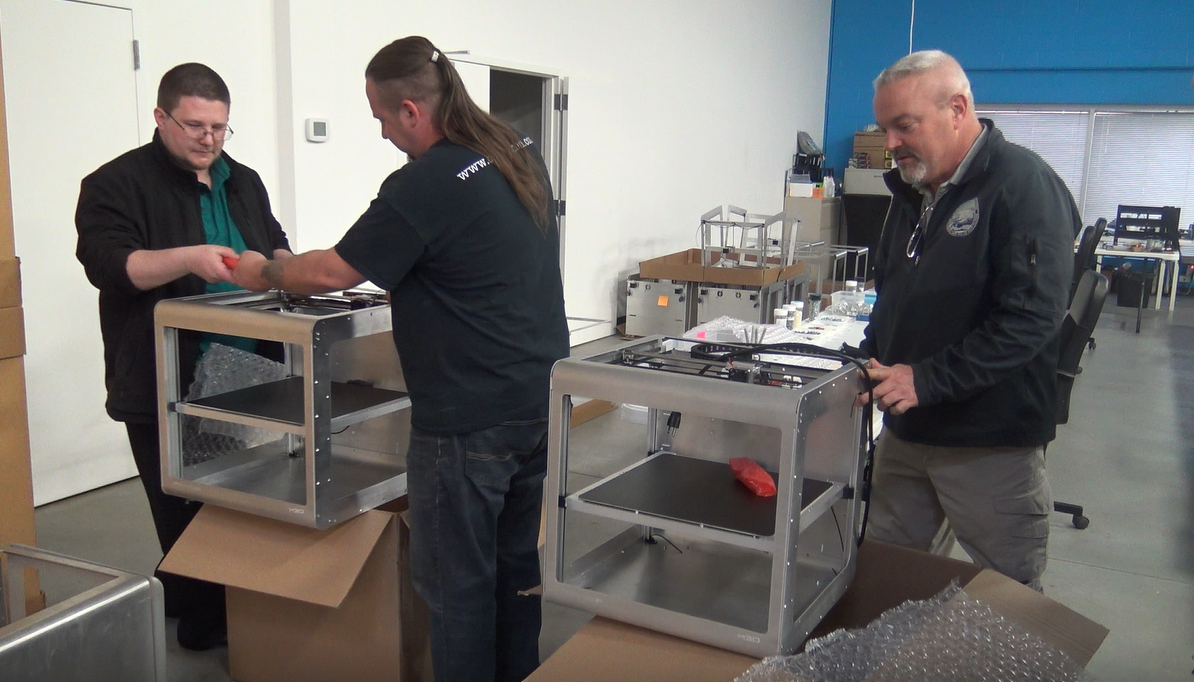 Timing for shipment of units came up in the Q&A session we recently hosted. For anyone who may have missed it, below is the transcript of the Promega discussion during that chat with our CEO, Michael Armani:
Quick Promega Overview:
In the last two months we've taking delivery for bulk production items. We normally build in batches of 250, 500 or 1000 sets. You may not have realized it but we've built and vet test units virtually alongside our China-based team. We approved them for first 50 and had them shipped via air. That's when physical QC began at our Maryland headquarters to match drawings and go through complete assembly and testing (including quality printing). We have since received most things in at 250 quantities (frames are on a truck making their way here) (as of the writing of this post, an additional 16 frames have arrived).
What can you do with a dual print head? What types of materials would you use? What kind of things would you make?
Two color prints for more professionally finished products are now possible with a dual-print head since we can do two different colors within the same layer. As opposed to doing 'traffic-cone' prints where the color difference is between stacked section on a print.
In terms of multi-material prints. For instance, you can have a dissolvable support material in addition to the normal wall and infill material.
What is the expected shipment rate of the first Promega units?
In the next 30 days we're going to move more products. We have been doing checks and tests on the initial batch first set of frames. Final frame units are continuing to arrive. Scaling up to 250 units with all parts in house for this first large batch will happen within the next 3-4 weeks. In the meantime, we're building sub-assemblies quickly and easily due to how the Promega was designed and will be able to hit the ground running once all pieces are in house. We are aiming for a Promega to be assembled in about 4 hours per printer which is impressive given its size and then number of parts.
What is the expected shipping timeframe between first units and those who wanted to hold theirs until the end?
Generally there will be a 90 day gap between first Backer and retail-ready units. Some purposefully held it in hopes of further advancements on the printer. We don't expect a lot of that to happen over the 90 days but surely think some small tweaks will happen as these printers are in the market and we hear customer feedback.
How have things changed with M3D's resource allocation to make this printer possible?
Everything about the Promega is a stark difference from the Micro. And it all began with the design: we designed in flexibility and scalability in order to make changes easily, quickly. Everything has screws vs snapfits or affixed items. Given our team as a whole is around 50 people. In addition to gaining experience with 3D printers as people have grown within the company, having 20% of it comprised of managers is a big difference. Overall, our team is more experienced.
For the Promega, what's new is that we have a 15-person off-site team in China doing virtual QC of the components. We ship part of the batch, do further QC it here, approve it and then we get the rest of the order. This way we're not liable for full shipments that turn out to be unsuccessful. We are more agile in finding and correcting errors.
Glass bed: Is it removable, does it cause any changes to Z Breathing?
Yes, the glass part of the bed is removable. The platform for the bed is also removable- with some screws and effort. As for breathing, .2mm is possible on printers when going from room temperature to 100° (concave or convex) as it goes through heat cycles. With the Promega glass bed, it's not locked down. Further, its glass bed adds conveniences which helps to stabilize it such as its weight and durability.
Have you considered doing lead-screw systems?
While it seems there are advantages to lead-screw systems, it is inferior to the belt system as it provides indirect motion with more force than is necessary (which has a negative effect). Further, there was no good way to isolate the rotation of the lead screws and its effect on Z movement despite the different approaches we tried.
Compound: Nylon as support material?
Have not tested Nylon yet. Traditionally nylon is used for an engineering material over support. It's essentially a dream material: low wear, low friction, semi-rigid. It absorbs water from the air so it absolutely needs to be heated and desiccated at all times which can be inconvenient. If you do want to use nylon, use lowest temperature nylon such as bridge nylon from Taulman.
We are always innovating new materials. One coming out soon is low-temp poly-carbonate. It's a hybrid that solves the warp problem with low friction. Alternatively, we suggest using POM > polyacetal or delrin. It's extremely hard to work with because it warps but it doesn't have the water issue.
With the KTana, have you solved the drip issue that happens from all dual set ups?
A dual extruding system with Z Hop is something more often found on a higher tier 3D printer (~$5K printer). When you have two independant nozzles, there are really only two ways to keep material from one nozzle from affecting the material in the other. One way is retract upwards and hope for the best with help from an ooze shield within a slicer. The other option is to do a waste pillar and extrude as much material as possible and then cool the extruder to prevent further extrusion. (That's one of the reason why we came up with the Compound system that handles it internally.)
Why aren't there more images available of the Promega?
We quickly move through test prints and are segmented between teams to a degree, and across timelines and projects. The Promega campaign is done in a different way than most crowdfund campaigns. We announce the product and give people the opportunity to buy it early on. With that, there is more uncertainty throughout and then as there is more clarity with images, specs, etc. as the project finalizes. That has seemed to work out and our customers understand that approach. After a product starts shipping, we focus more in iterative testing and getting printers in your hand fast. On an average day there may be 50 prints on the floor with minor tweaks needed that the Engineering team fixes. Now and then someone will go and grab a picture of them (which is what you've seen so far). We're trying to keep the engineers focused on getting printers to you over the pictures knowing that our Backers will probably print more interesting things once they have them up and running.
Is the breakout board needed for the Quad head, what good is it: Duet boards are set up for 5 motor controllers: 3 for XYZ, 2 for the 2 extruders. If you want a Quad Head w 4 motors, you need more drivers so we designed in the ability to control two more motors with an expansion board. All Duet 2 Maestros come with the ability to take that Breakout board, control all four motors independently and operate the Quad head.
---
And that's it for now! We'll continue to keep you posted on the Promega's production and shipping progress, as well as users' experiences as more Promegas find their way to Backers.