UPDATE: Beta Snapmakers are ALL Shipped Out!
3D printers are amazing. Unfortunately, they used to be hulking, complicated, expensive, and with limited functions. We've been hearing about and experiencing the pain of setting up the difficult-to-use DIY 3D printer kit and being limited by the standard plug-and-play 3D printer. We are hoping to change that. So we came up with an idea: create an all-metal 3D printer, which is easy-to-use for beginners, expandable for makers, and truly affordable for everyone.
That's why we designed Snapmaker to be all-metal and all-in-one.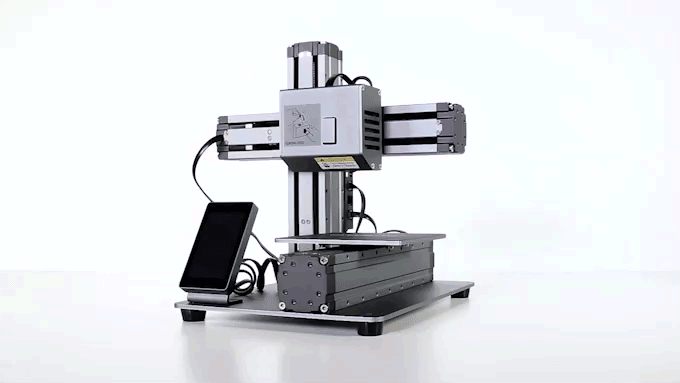 The Snapmaker 3-in-1 3D Printer has been proven in the marketplace and continues to have a clear development path. We have delivered the beta Snapmakers to our early backers. Now we will continue our production as per our posted schedule. The functionality and feasibility of the product will be proven by thousands of early users by the end of this year.
Although our Kickstarter campaign ended on April 28, we didn't stop making this innovative product available for more creative people around the world. Now you can preorder the Snapmaker and enjoy the special discount for preorder campaign only. The price will be going up to 799 USD in 2018.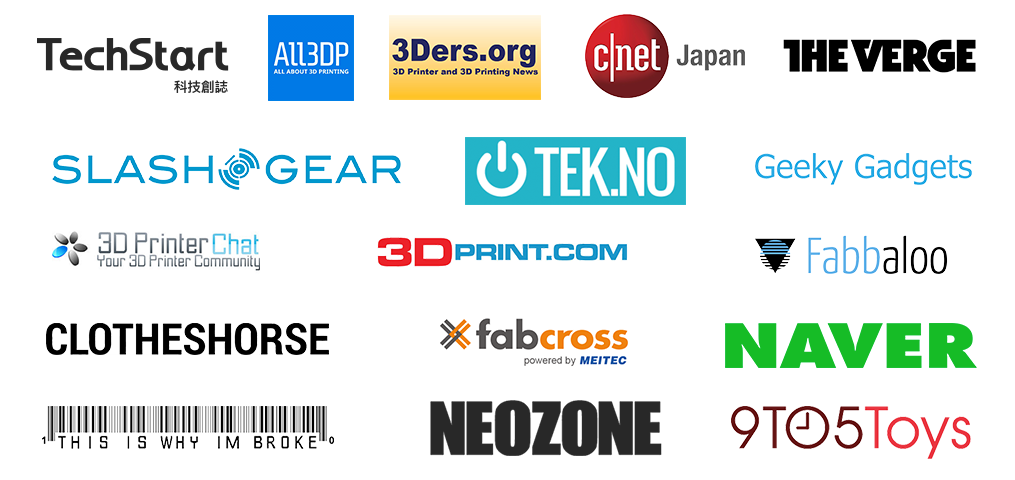 Snapmaker is a desktop makerspace, a combination of 3D printer, laser engraver, and CNC machine with interchangeable heads.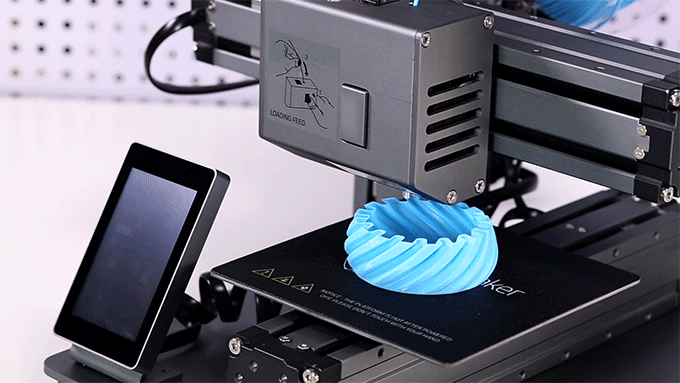 High resolution 3D printing is now an affordable reality with Snapmaker. It prints at a layer resolution of up to 50 microns. It allows bringing your designs into real-life objects in half an hour or several days, depending on the size and complexity of your design. Now you can print anything from toys to mechanical parts at home.
Now it gets even better!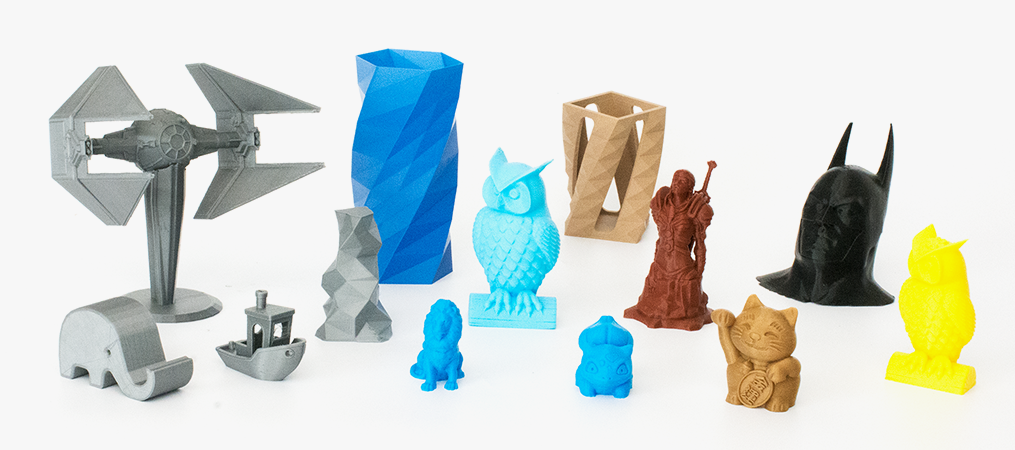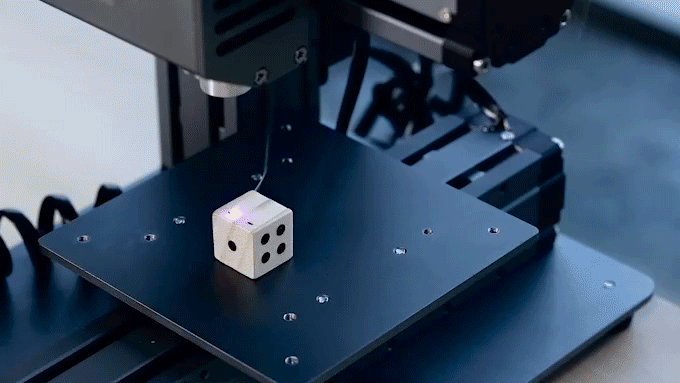 Snapmaker can be easily transformed into a laser engraver using the laser module. You can laser engrave images and logos on wood, bamboo, leather, plastic, fabric, paper and other soft surfaces. Now, customize your wallets, coasters, leather iPad cases, jeans, and more!
Now it gets even better!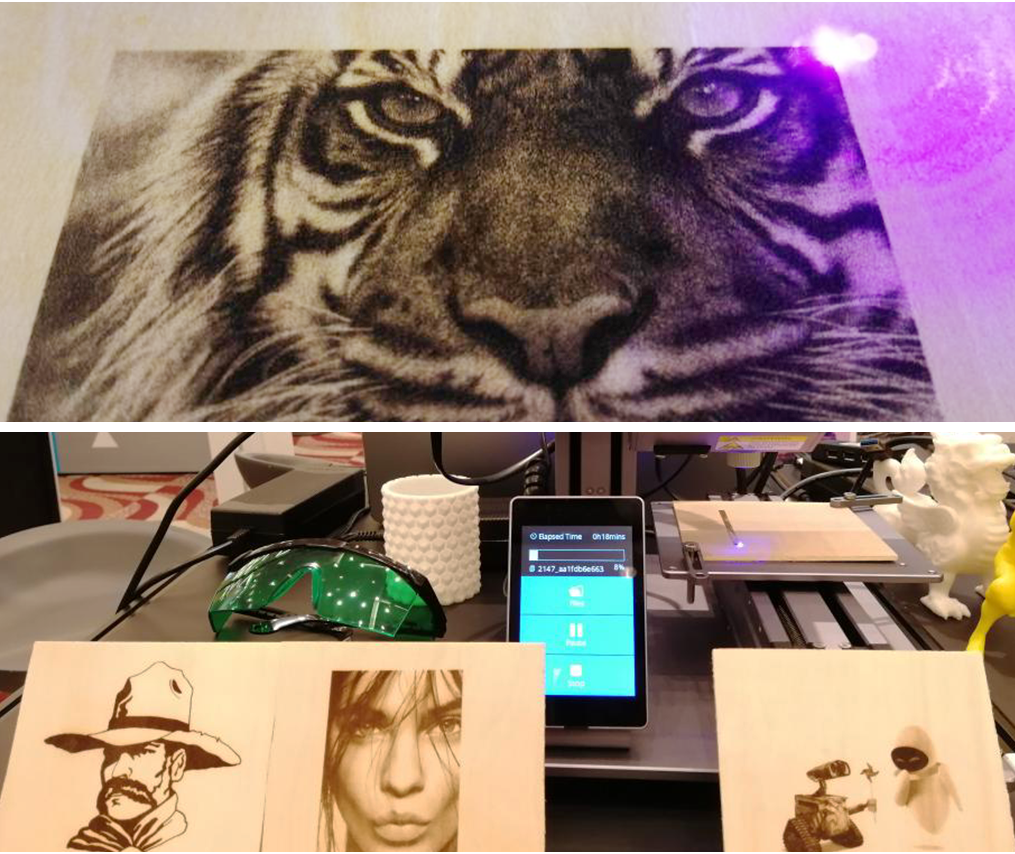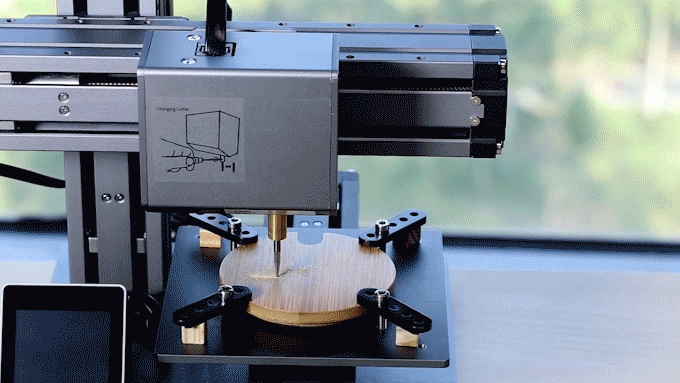 You can CNC carve on wood, acrylic, PCB, and CNC cut carbon fiber sheet using the CNC module. The interchangeable modules equip you with more creative options from 3D printing to 3D carving. Instead of purchasing three machines, now you can use one compact and reliable machine, saving you money and desktop space.
Now it gets even better!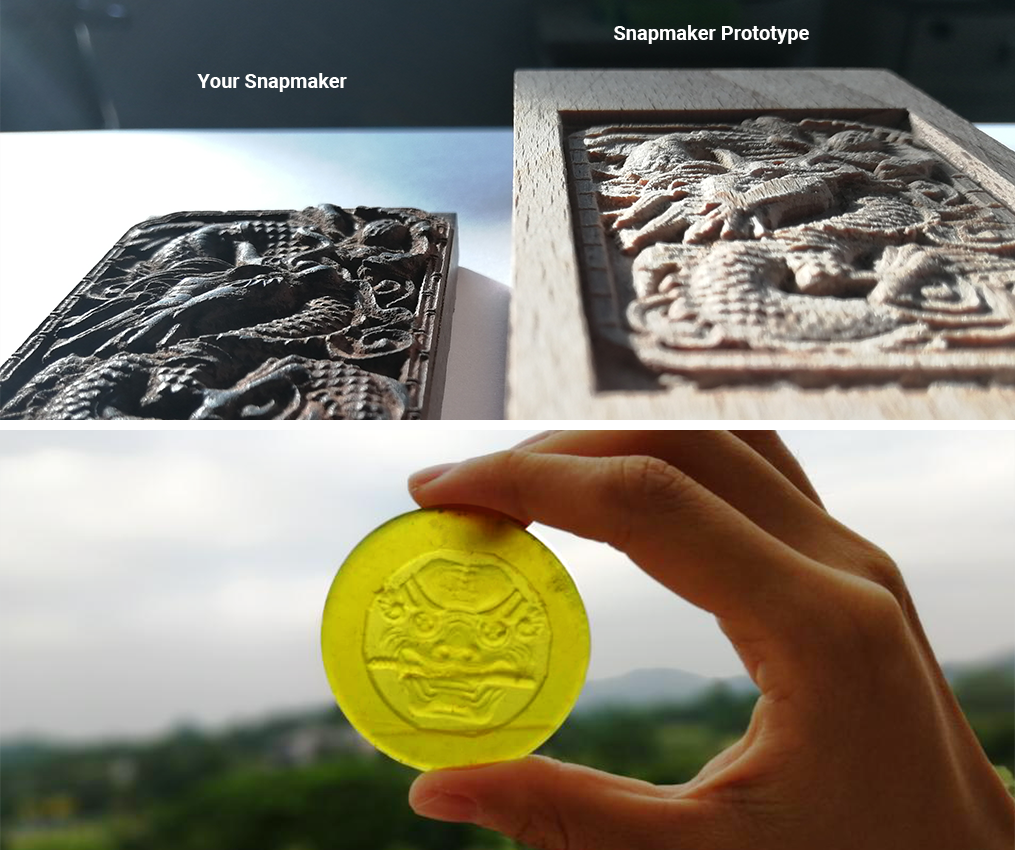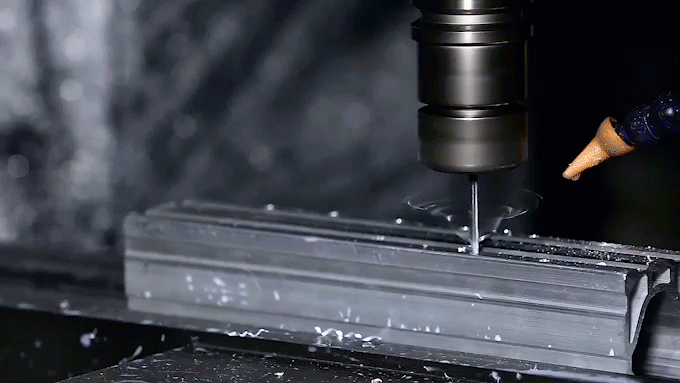 Snapmaker is entirely made of metal, ensuring a high-quality and reliable 3D printing experience. Along with a rock-solid aluminum alloys frame, all major components are CNC machined. It uses the precision acme lead screw as a drive mechanism to boost the precision and capacity. The all-metal build also translates into a premium industrial outlook.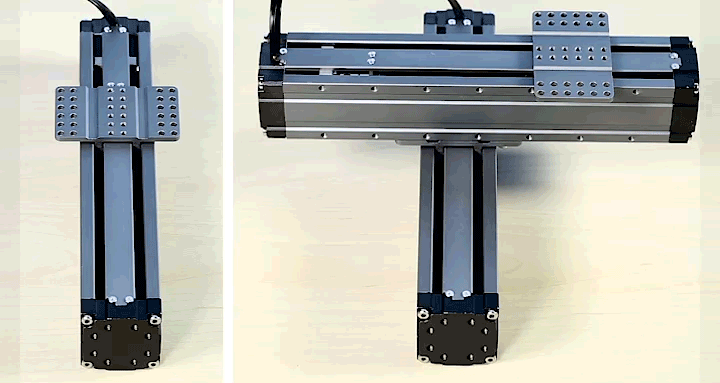 Snapmaker has an innovative modular design, which enables a flat-packed and low-cost shipping, quick assembly, strong expandability and reduced manufacturing cost. In particular, we designed a new type of linear module, which can be used in any of x, y, z directions and performs high precision linear motion.
Now it gets even more powerful with endless possibilities!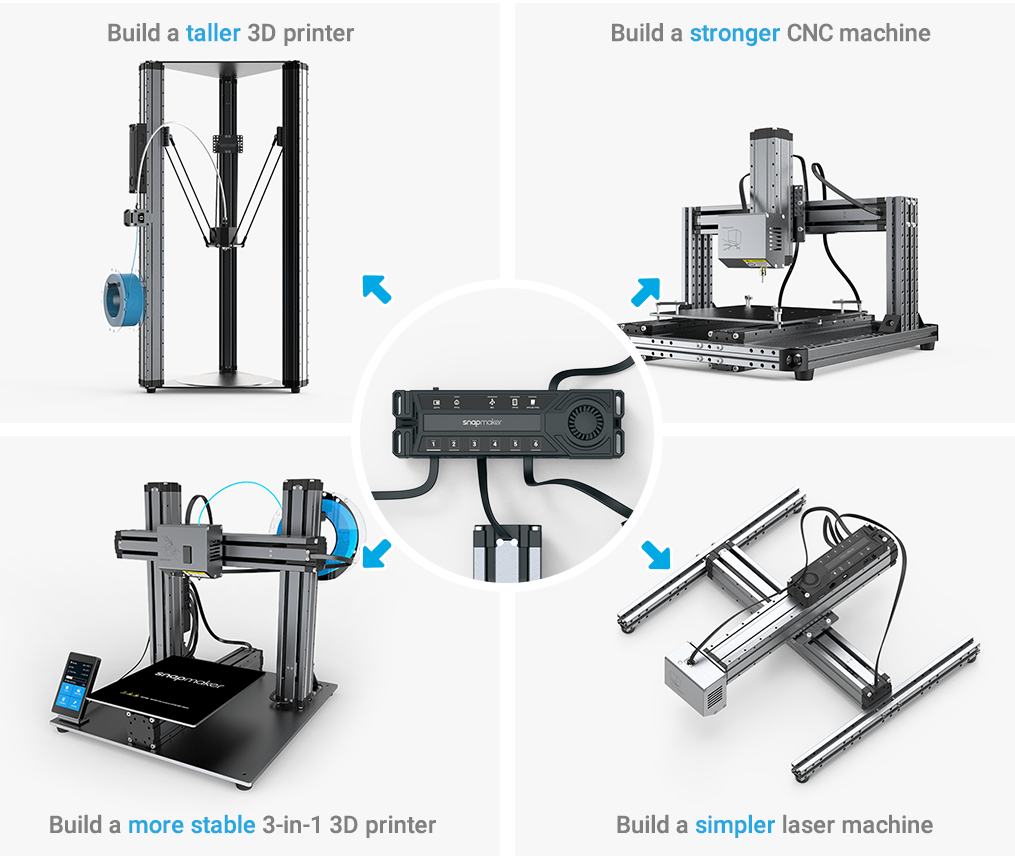 The Snapmaker opens up to infinite possibilities of 3D printing, laser engraving and CNC carving for everyone. All modules are designed around standards, allowing them to work with new generations of Snapmaker. There will be more and more kinds of new modules coming into the market in 2018!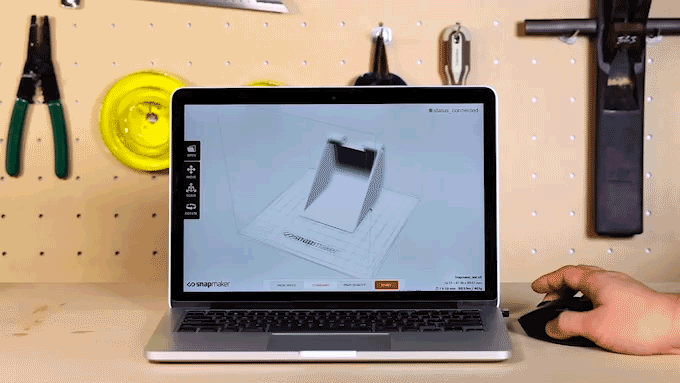 Snapmaker comes with a very newbie-friendly experience in Snapmaker3D and Snapmakerjs. Both of them are easy and free. Your stunning creation is just a few clicks away.
Now it gets even better!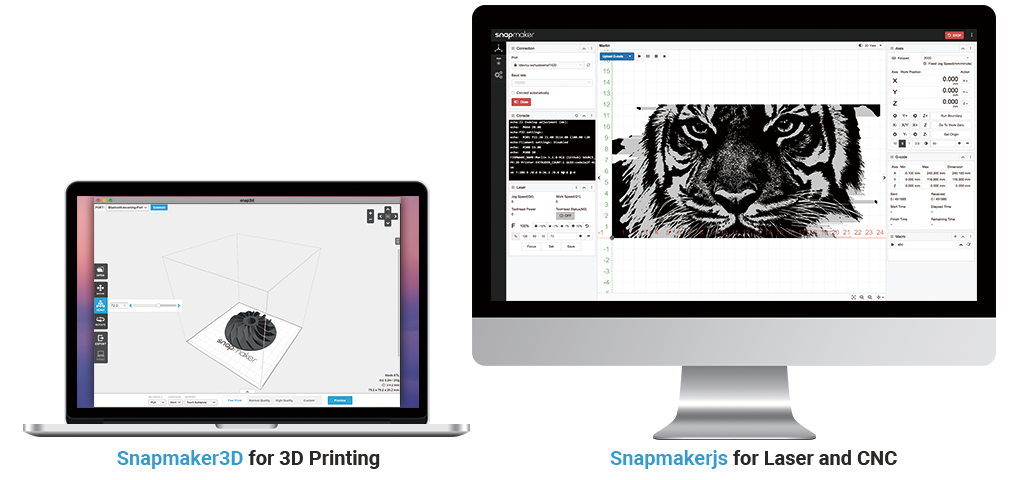 - Snapmaker3D offers an "easy" mode that lets you start 3D printing with only 3 steps. For experts, it can be switched to the "expert" mode that lets you adjust various settings to meet your needs.
- Snapmakerjs lets you easily start laser engraving and CNC carving/cutting. Our detailed user manual will guide you through the entire process. Click here to check out the manuals.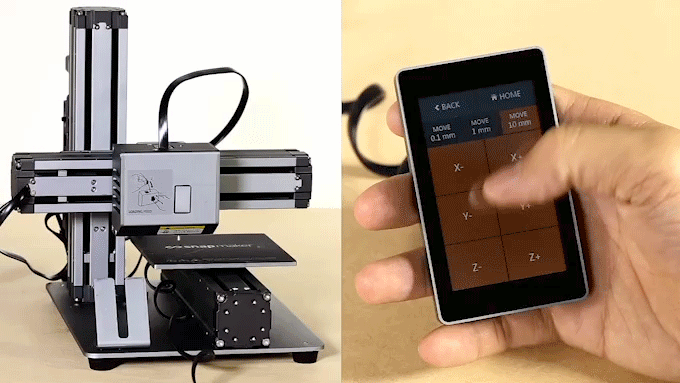 With movable and intuitive touchscreen, you can check and control various settings in your hand, such as homing, loading the filament, etc. It enables you to own a standalone 3D printer that is capable of handling the workflow from start to finish.
Now it gets even better!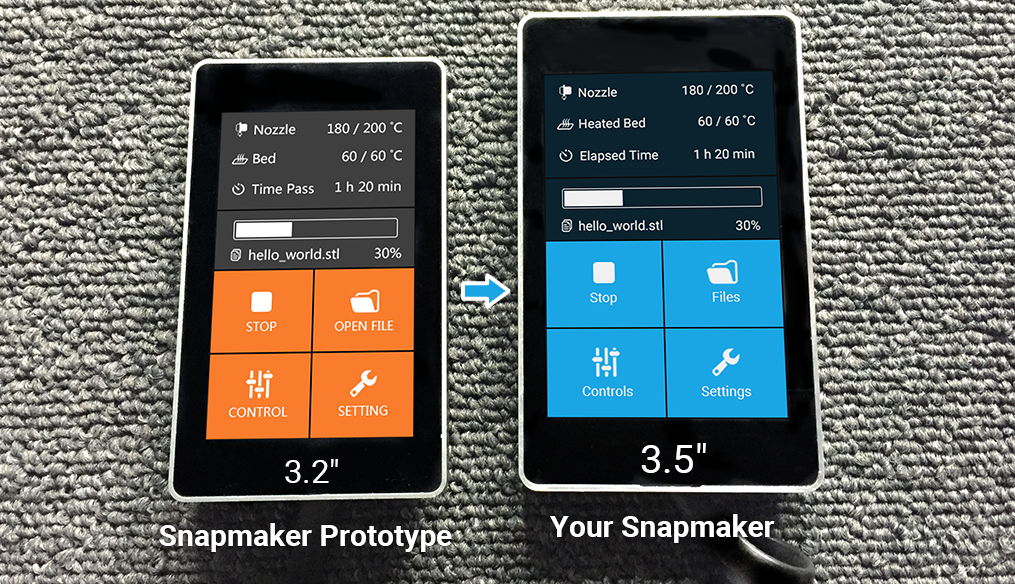 - Upgraded the screen from TN panel to IPS panel -> Display consistent, accurate color from all viewing angles .
- Upgraded the screen size from 3.2" to 3.5".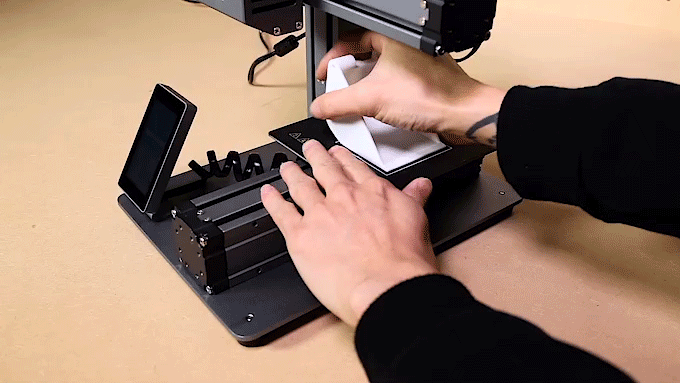 No more hassle of prying loose your print from the print bed! Snapmaker comes with a hassle-free and reusable platform sticker, offering better results than traditional blue painter's tape and glue sticks. Prints stick well on the sticker and are easy to remove when completed.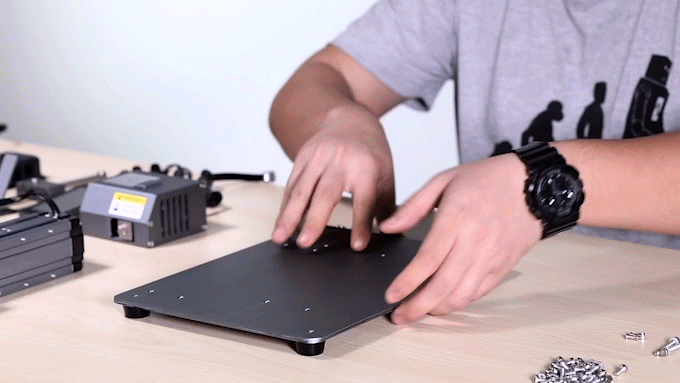 Have you ever tried to assemble a 3D printer in 10 minutes? With Snapmaker, now you can! It creates an easy setup of 10 parts in only 10 minutes. Do not hesitate, and try it yourself. It's cool!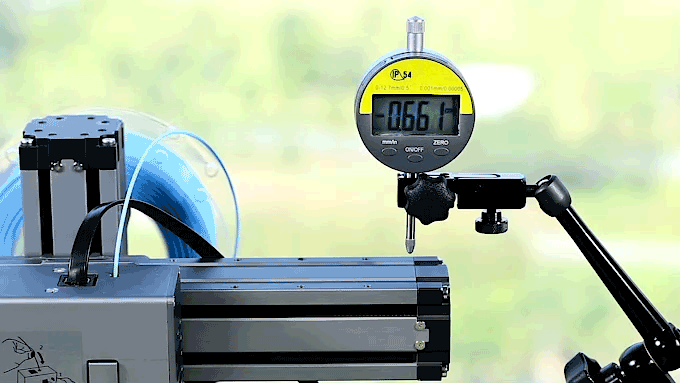 The key to high precision is the combination of a streamlined structure, CNC precision parts, and an improved mechanical design. Snapmaker is capable of high quality printing with excellent details.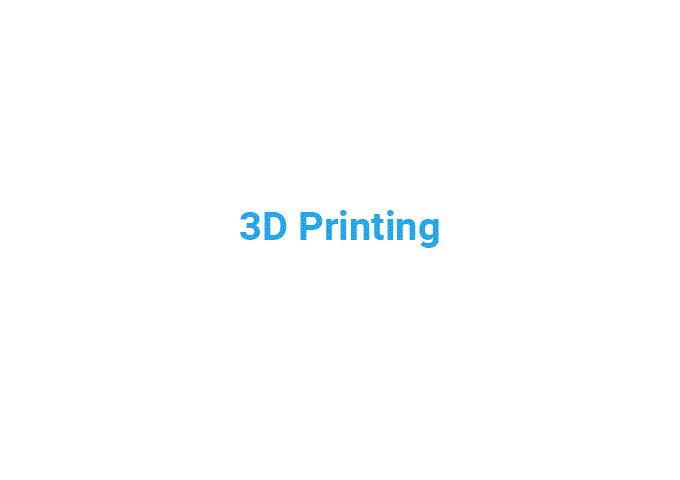 Wow! You will receive ALL of the following items.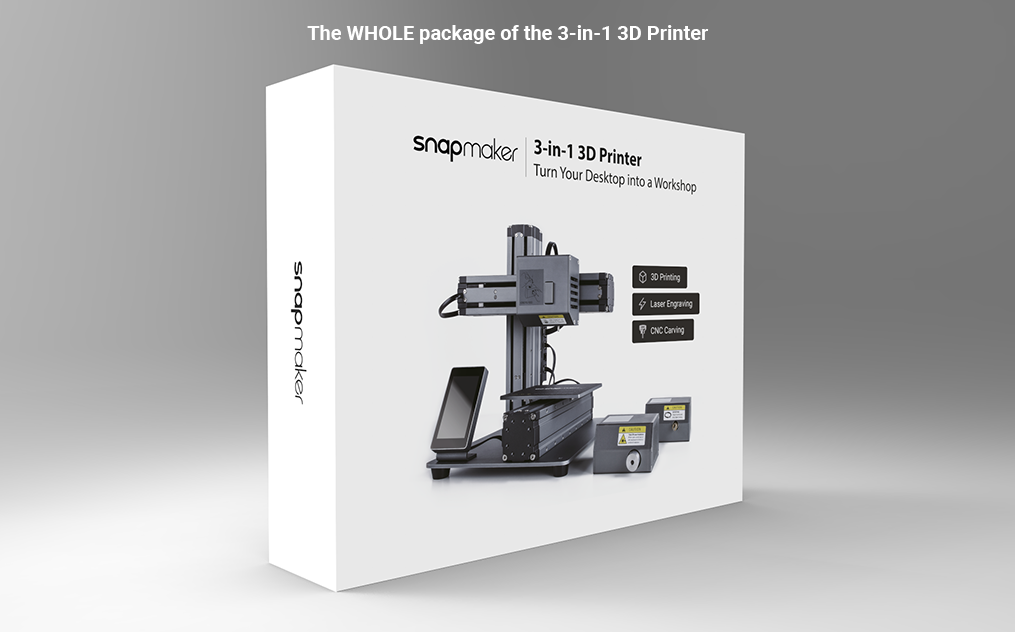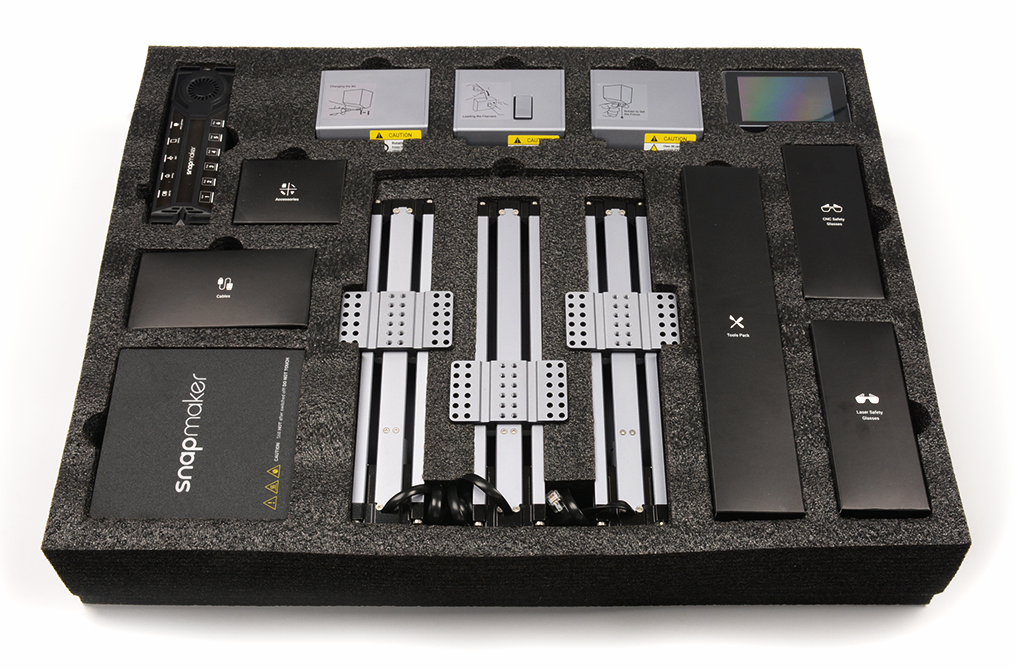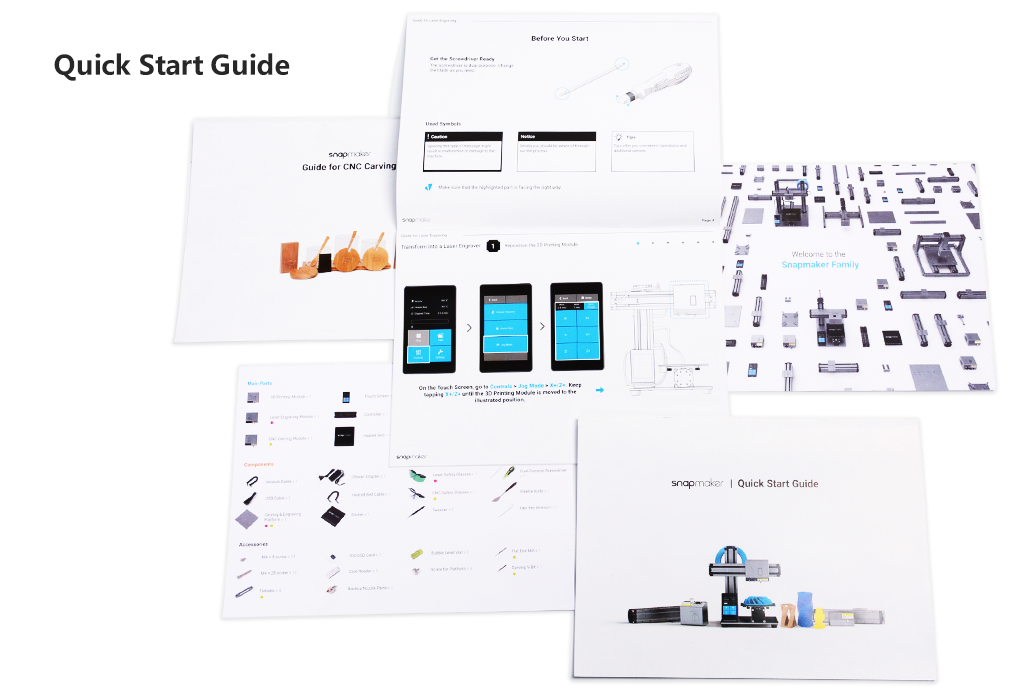 Click here to read the manuals online.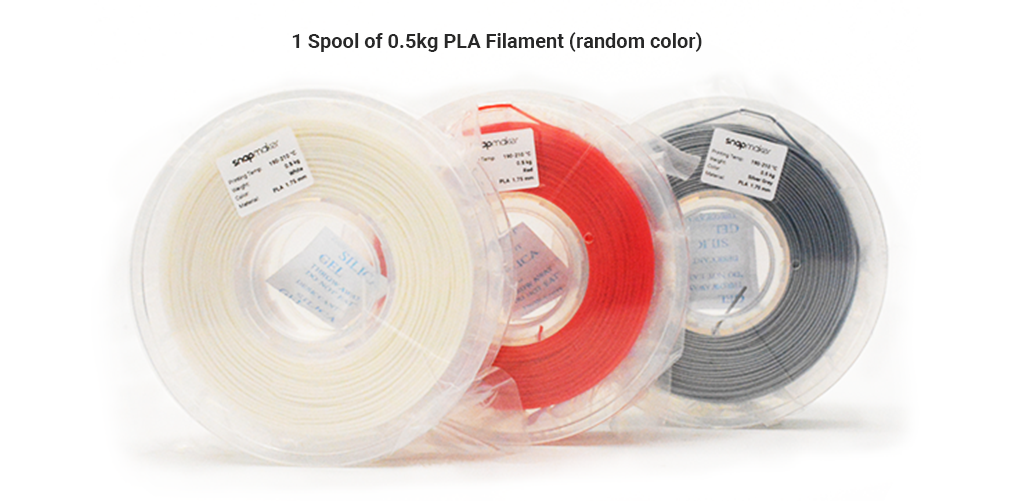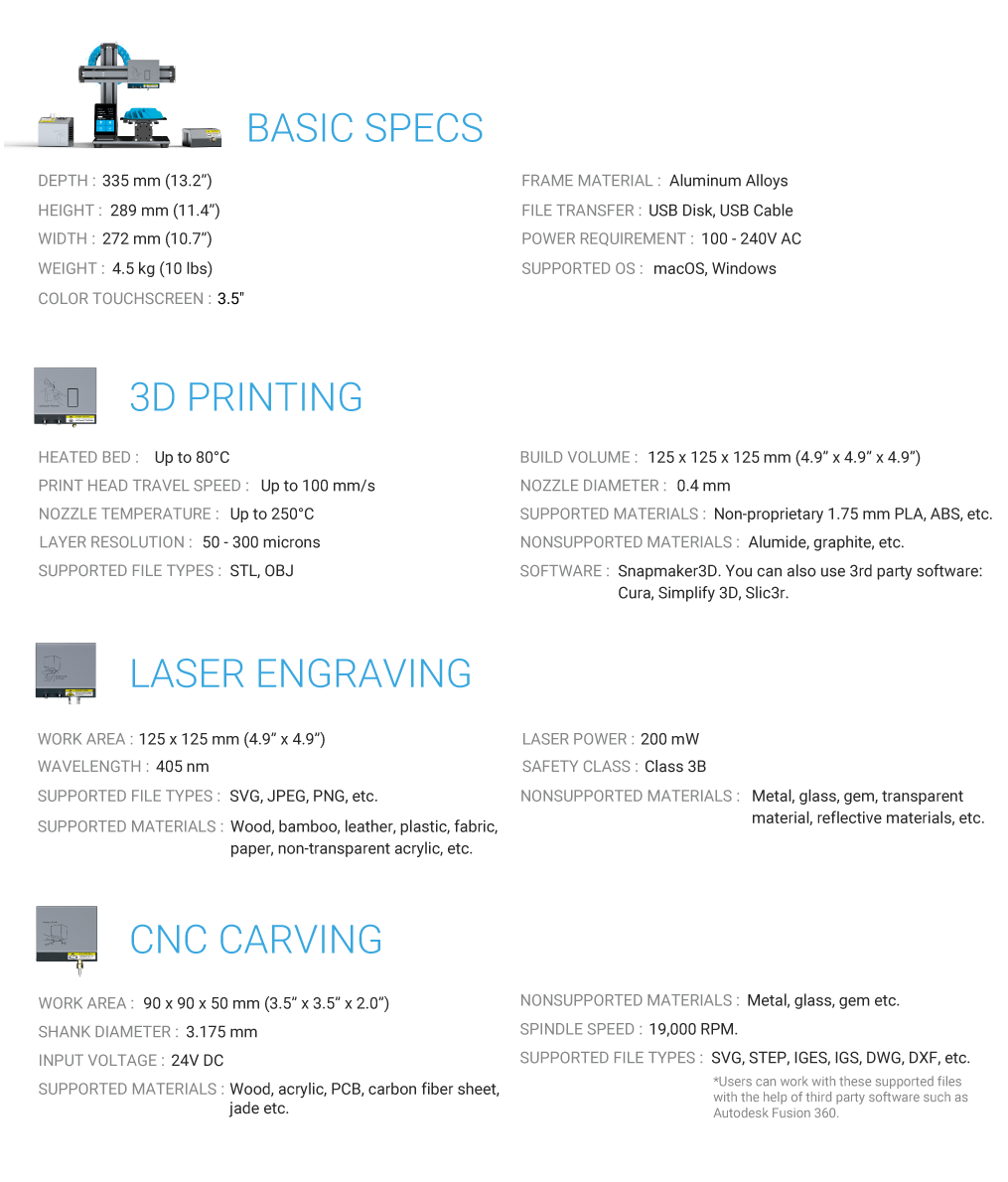 Isn't it incredible! The Snapmaker 3D Printer surely will be a game changer. High quality, reliable, versatile, and affordable. To own an equivalent printer on the market would cost significantly more. But, now you can get it for a pledge that is only $549. Making all of this was a big challenge, a challenge we won by using all-metal & modular design and previous work experience in engineering and manufacturing.
How We Made It So Reliable?
Use All-Metal Design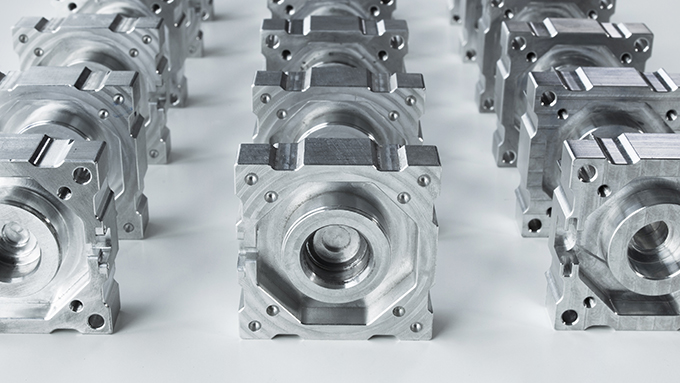 When it comes to 3D printers, reliability is the issue that people care about the most. Snapmaker owes its reliability to an all-metal design. It uses a solid aluminum alloys construction, an all-metal hot end and precision acme lead screws, giving it precision print quality and consistent performance.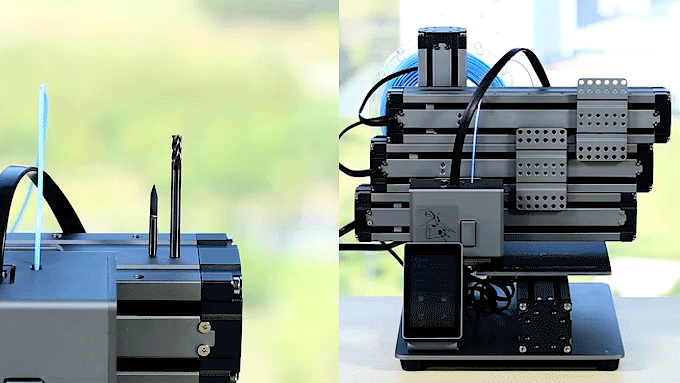 In general, higher strength and precision designs can be achieved with aluminum alloys. The body of the linear module is made of extruded aluminum alloys, making it extremely rigid and durable. It has over 10 times better tolerances than plastic, and also better performance than sheet metal. Regarding the motion system, we use lead screws instead of belts and pulleys to achieve higher accuracy and durability.
How We Made It So Versatile?
Use Modular Design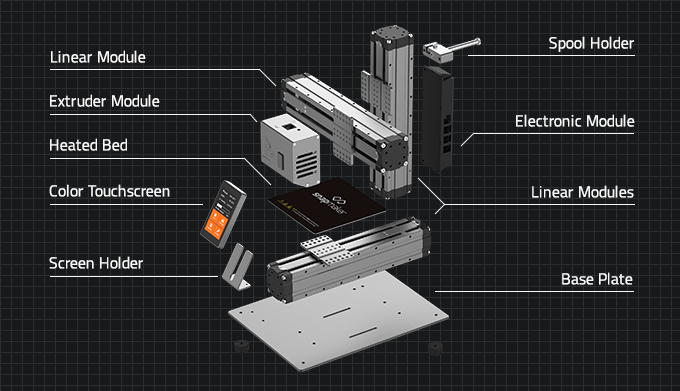 We not only love 3D printing, but also have a great interest in a number of creative designs. In fact, there are lots of like-minded people who want to create more than 3D printing. We found that all 3D printer, laser engraver and cnc carving machine require a three-axis linear motion system to work. So we combined them into one machine that performs all functions.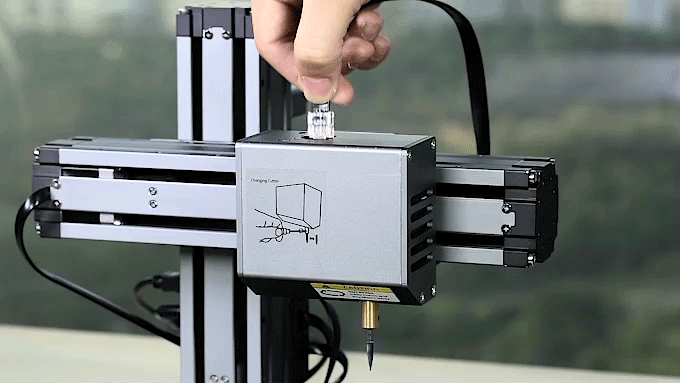 Snapmaker is built to be versatile from the very beginning when we designed it. It is a compact desktop makerspace: a combination of 3D printer, laser engraver, and CNC carving machine. Its versatility is achieved by using interchangeable heads, modular connectors (RJ25 and RJ45 jacks), and modified firmware that enables three applications of 3D printing, laser engraving and CNC carving.
How We Made It So Affordable?
Work Experience in Engineering & Manufacturing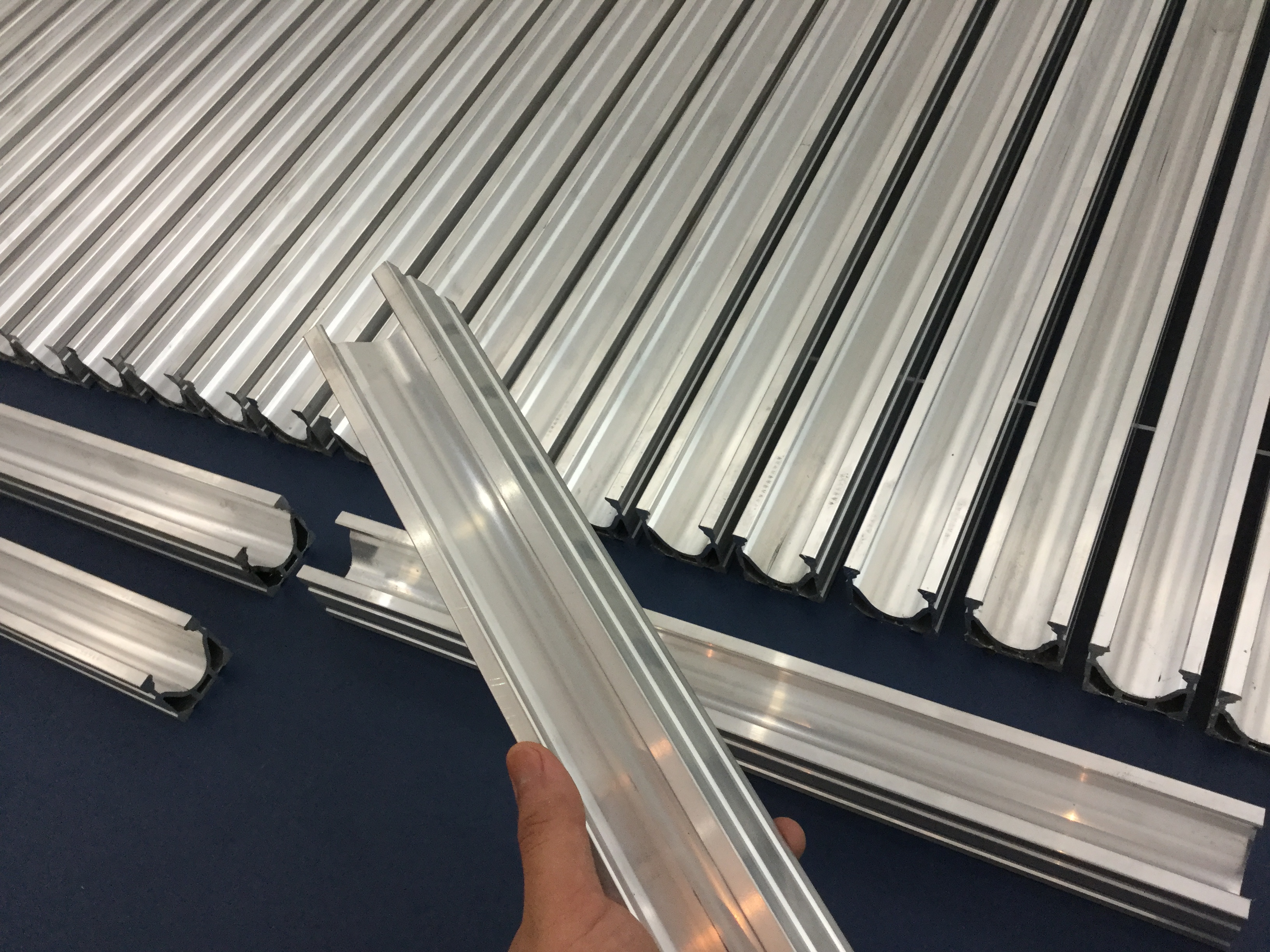 To enhance product quality and reduce manufacturing costs at the same time, the usual method is to use dies and molds for mass production. It is exactly the way we made the all-metal Snapmaker affordable. Clearly, we can expect a lower cost per unit if we make them in higher volume. Meanwhile, we are able to sell our printers in high volume by hitting a very affordable price point.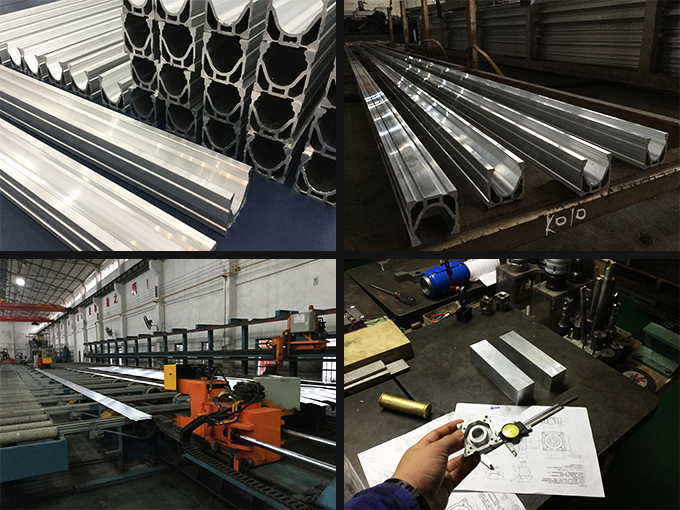 Generally, making a die or mold is costly. We have been taking this issue under consideration throughout the design process and finally found a great solution: using modular design and designing all three linear modules (the most important and expensive parts) to be identical so that all of them can be made with the same dies. It not only cuts dies costs, but also allows for making linear modules in higher volume. Decreasing the overall manufacturing cost eventually enables us to offer the all-metal Snapmaker at a truly affordable price.

See how our Kickstarter backers felt about this project.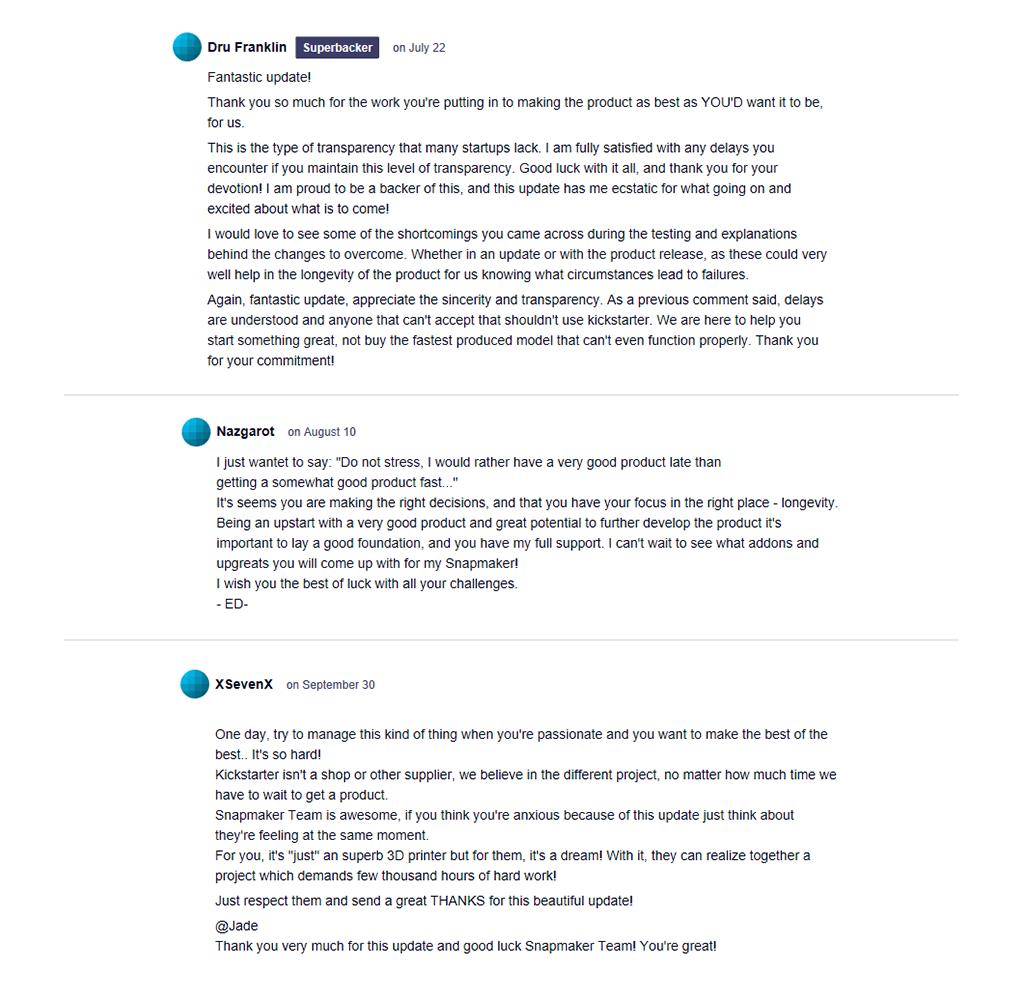 We've delivered all beta Snapmakers to our early adopters on October 27. Bravo!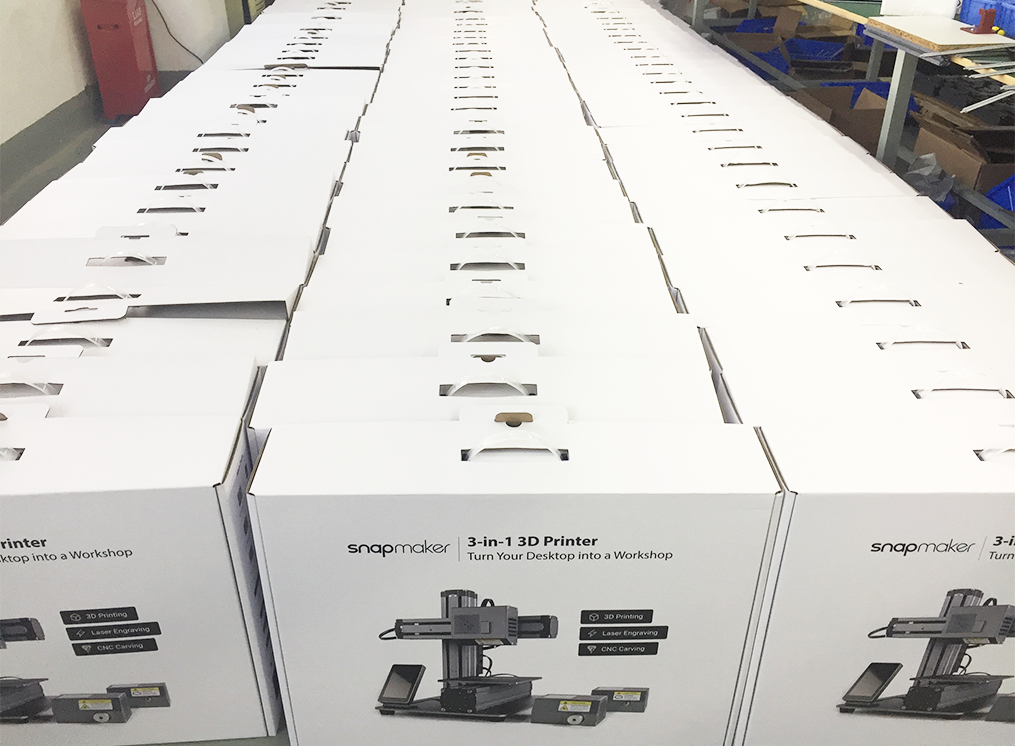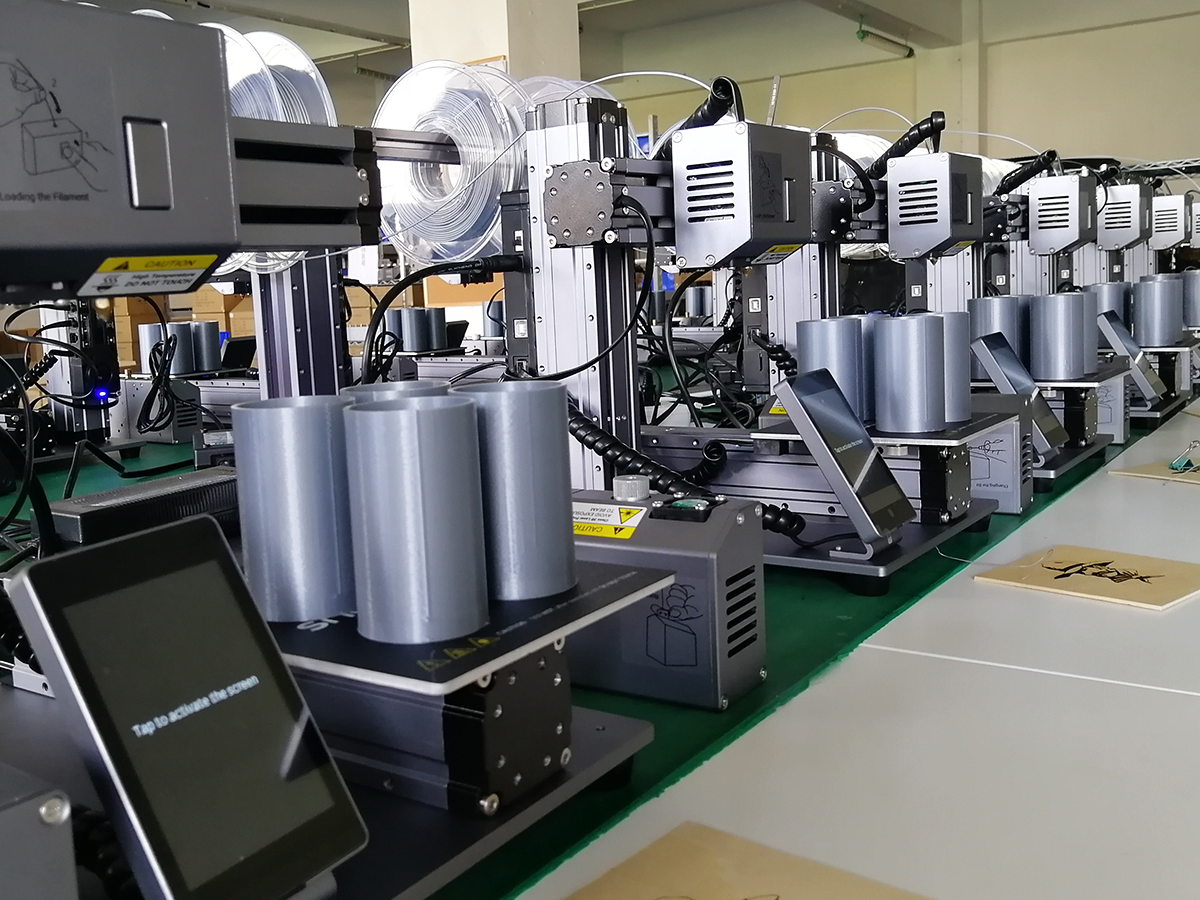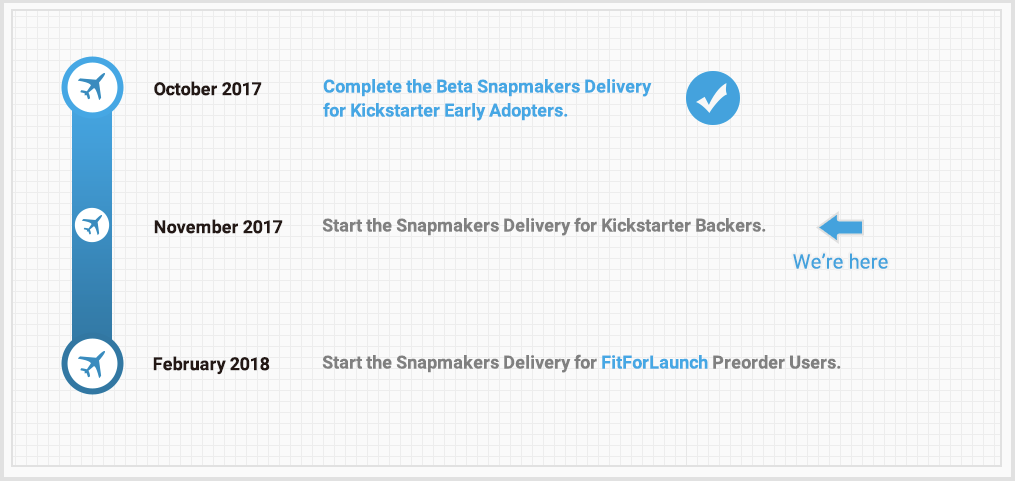 We're a diverse team that has come together to work, learn and grow in the name of making creative works accessible, enjoyable, and meaningful.
Our goal is to offer powerful digital fabrication tools for makers, STEAM educators and students to rapidly bring their creations to life.

[GENERAL] What power supply unit will be shipping with this printer?
The provided power supply unit can run on 100-240V AC, and can be used universally. It can accommodate different AC mains voltages with interchangeable connectors.
[GENERAL] How can I transfer the file to the Snapmaker to start printing/engraving/carving?
You can connect the Snapmaker to your computer using an USB cable (included), and then start printing/engraving/carving/cutting using the provided software.
Besides, the Snapmaker supports the standalone 3D printing from micro SD card (included). That is, no computer connection required during printing/engraving/carving/cutting.
[GENERAL] What are repeatable tolerances in X, Y and Z axis?
5 microns.
[GENERAL] Will there be any upgrade available with longer linear modules to increase print volume?
Yes. We will provide longer linear modules so that you can replace the linear module in z-axis to increase the print volume. This upgrade* option will be available in the near future.
We expect that anyone with an interest in 3D printing can get a Snapmaker 3D Printer easily. Moreover, personal 3D printer expansion is made easy with interchangeable heads, linear modules with different sizes, and more.
[GENERAL] Will Snapmaker offer a warranty?
Yes. We have worked with various machine tools, and we know how important warranty support is for this machine. Here's a general warranty policy:
Warranty Period: 180 Days from the Date That You Receive the Product
We will guarantee all modules and the major parts. We will verify and release the details of warranty after we do thorough tests during the pre-production.
For the consumables like the nozzle and CNC bit, we will provide you with an extra replacement part for you to replace the worn-out part (included in the product package). The consumables are not covered in the warranty.
[GENERAL] How Can I Become a Distributor?
We're always interested in cooperating with people who can help make Snapmaker accessible to everyone. Please contact sales@snapmaker.com.
[3D PRINTING] What types of filament can I use with Snapmaker?
Snapmaker uses non-proprietary filament. It also comes with a heated bed that enables you to print with 1.75mm PLA, ABS, PVA, etc. The following filaments are not supported: alumide, graphite, etc.
[3D PRINTING] Can it be used with 3rd party software or will it be proprietary?
It is not proprietary. You can use other slicer software, such as Cura, Simplify 3D and Slic3r.
[3D PRINTING] Does it support dual extrusion?
No.
[LASER ENGRAVING] What materials can Snapmaker laser engrave?
Supported materials: wood, bamboo, fabric, leather, paper, acrylic, and more.
Not supported materials: metal, glass, gem, transparent material, reflective materials, and so on.
[LASER ENGRAVING] What file types are supported for laser engraving?
SVG, JPEG, PNG, etc.
[LASER ENGRAVING] What is the laser safety class of it?
Class 3B.
[LASER ENGRAVING] Does it support laser engraving with a grayscale image?
Yes! Here's an example that we made with Snapmaker:
https://www.youtube.com/watch?v=39OENK2psUs&feature=youtu.be&utm_content=buffer3b077&utm_medium=social&utm_source=facebook.com&utm_campaign=buffer
https://www.kickstarter.com/projects/snapmaker/snapmaker-the-all-metal-3d-printer?ref=user_menu#prototype-slide-56471
[LASER ENGRAVING] Does it require a ventilation system to vent the fumes produced in the engraving process?
Toxic smoke and fumes are generated while burning the surface of material. It is recommended to vent the fumes to the outside. You should keep the room window open or use an exhaust fan near your work place. If you can't do that, you will need to use the Air Filter.
[CNC CARVING] What materials can Snapmaker CNC carve?
Supported materials: wood, acrylic, PCB, carbon fiber sheet.
Not supported materials: metal, ceramics, stone, plexiglass, and other hard materials.
[CNC CARVING] Do you have a solution in mind that will protect the linear actuator from dust while using the CNC module?
Yes, there's a groove inside the linear module so that dust and chips are collected and can be cleaned conveniently.
[CNC CARVING] What file types are supported for CNC carving?
SVG, STEP, IGES, IGS, DWG, DXF, etc.
[CNC CARVING] What is the spindle speed?
Up to 19,000 RPM.
[CNC CARVING] What is the shank diameter?
3.175mm.
[CNC CARVING] Can it carve metal?
No. The metal is very hard and can break the CNC carving bit. This will damage the machine and may injure you.