American technology innovator, M3D, departs from original consumer-based business model through launch of large industry-focused, feature-packed, open source 3D printer, the PROMEGA. Boasting an impressive 15.3"-cubed build size, the printer itself is just 20"-cubed.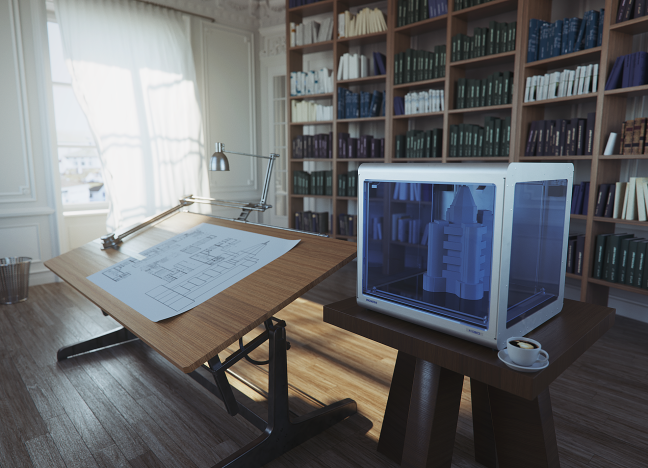 "Even we are in disbelief about all the features we've been able to pack into the Promega," said Michael Armani, M3D CEO and co-founder. "Considering its size and all the features included in this dream of an industrial 3D printer, the Promega would have sold for $50,000 just a couple years ago; now we intend to sell it at $3,500. Our team of engineers were able to innovate the printer's space and power efficiency in order to help owners fit the most build volume and the most printers in a given space, while significantly lowering their energy expenses."
Some of the top features include:
Dual-extruder mixing nozzle with alternate options

COREXY motion system

Auto-bed leveling

Patent-pending, dual-zone, energy efficient heated bed

Rigid, all-metal frame and parts

Fully-enclosed with optional filtration

The Promega's heated bed is powerful and energy-efficient to an extreme. Leveraging a patent-pending design that includes dual-zone heating, the printer uses ⅓ less energy than standard printers when running both zones and ⅙ less energy when using one zone. This design minimizes servicing, therefore reducing labor and electrical costs.

Tech Specs Overview:




There will be several add-on's that will be revealed later in the campaign!

The first add-on we can reveal is an optional filtration system.




Prototype Gallery:






Like other printers from M3D, the Promega is designed, assembled and supported in the United States. The Promega industrial 3D printer will retail at $3,500 USD, but launches at $1,000 USD on pre-order platform FitForLaunch (limit one-per-person at this price tier). The Promega crowdfunding process will vary from standard experiences in that production takes place as pre-orders are coming in; not after a campaign has ended.
Within the first month, 5 Promega printers will be shipped; the next month 2 dozen printers will be shipped and in 3 months' time, one hundred printers will be shipped. The first few units will be review units, and bulk shipments will start in 4 months. As a result of this shift in pre-order approach, pricing for the Promega will increase gradually as additional units are shipped out and more reviews are garnered within the pre-order period.
Week 8 Update
Posted By: M3D LLC - View: public
Aug 11, 2017 - 3:03 PM
We're jumping back into the questions log for this update, covering inquiries about Filaments and High Temperatures on the Promega.
FILAMENTS
How well does the Promega handle infused and novelty filaments? For example, wood, metal, carbon fiber and wax?
The Promega is able to handle all of the above mentioned filaments, as good as the best printers in the industry because of the stainless steel nozzle parts being used (vs brass), control over temperature and hardened stainless steel drive gears. It's still depends on using filament that is a match for the nozzle size, because carbon fiber and other particulate-filled filaments can clog smaller nozzles in any 3D printer. We do recommend using higher-grade filaments (those without dirty particulates in them) as they are known to be abrasive and corrosive to nozzles


Can I print with flexible filaments on the Promega?
Yes, what is special about M3D printers is their direct drive extruder design. This makes them extremely well suited to with flexible or non-rigid filaments like Tough, Ninjaflex, TPU, TPE, etc. Most printers, especially lower-priced ones, use indirect bowden-style feeds to reduce machine complexity. This further cripples their ability to extrude non-rigid materials especially 1.75mm filaments.